A Few Words About Us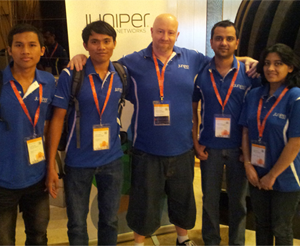 eintellego Networks is a specialist network systems integrator that has been involved in the building of over 200 ISPs and countless enterprise networks.
eintellego Networks is a Select Partner with Juniper Networks and has been deploying Juniper solutions for over a year and other vendor solutions for over 5 years.
eintellego Networks is also partners with Cisco, Brocade and IBM.
eintellego Networks engineers and architects have over 25 years of combined experience in working in the Service Provider and networking industry.
With Juniper (JNCIP/JNCIS) and Cisco (CCIE/CCNP/CCIP) qualified engineers, eintellego Networks is well placed to provide your business with expert advice regarding your network and related operations.
eintellego Networks has built, designed and deployed many interesting, creative, critical, and robust networks.
We don't mess around.  We don't play politics.  We're the guys you get involved when you want to get things done, as opposed to just talk about it.  We tell you the truth – which sometimes you don't want to hear, but need to.
Beliefs
1
Vision
eintellego Networks has a vision to help businesses achieve the best they can through the use of high-end technology. We want to succeed by helping our customers succeed with their customers.
2
Integrity
We adhere to a moral and ethical belief that being honest with our customers is more important than chasing their money. The truth is sometimes hard to hear, but we strive to deliver it with tact and consideration.
3
Excellence
We strive for excellence in quality in everything we do. For eintellego Networks "Good enough" is not good enough. We're constantly working to deliver an even better service to our customers.